Tech Savvy 2018 conference April 14, 2018 at Pasadena City College
Online registration is closed, but we still have space for you!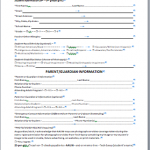 Come in on Saturday and register with your parent or
download and complete the registration form (pdf) to bring with you.
HANDS-ON STEM WORKSHOPS
(9:00 – 9:50 a.m., repeated at 10:00 – 10:50 a.m.)
Build a Telescope: At Last I See the Light
Have you ever looked up at the night sky and wondered what was out there? It's the job of astronomers to figure that out, and one of their main tools is the telescope. In this workshop, we will build a simple telescope, not unlike the one Galileo used to explore the cosmos 400 years ago. Since that time, there have been a lot of advancements in telescope design. We'll talk about some of the world's largest and coolest telescopes, and how we as professional astronomers use them to unlock the secrets of the universe. Presenters: Scientists at The Carnegie Observatories; Astronomy and Astrophysics
The Case of the Contaminated Well
Have you ever wondered how contaminated rivers and land get cleaned up? Geologists and engineers work together to find spilled contamination and remove it from the environment. In this workshop we will solve The Case of the Contaminated Well in an exciting hands-on exercise that illustrates what happens after a spill is discovered. Students will also be introduced to careers in geology and environmental engineering. Presenter: Carrie Crozier; Parsons; Environmental Geology
Brewing Up Slime
The workshop will focus on the field of chemistry. Students will be making PVA based slime. This is intended to teach them about chemical reactions. We will explore the chemical reaction that occurs between Sodium Tetraborate and Polyvinyl Alcohol. After a brief introduction of the topics, the Mas2 staff will help the students make slime. The lab section of this workshop will teach students lab discipline such as: the use of measuring equipment, mixing, cleanup of equipment and storage. PCC's Mas2 program students; Chemistry
Pencil Catapult
The workshop will be focused on the field of Physics specifically the area of projectile motion. Students will learn how we can know the flight pattern and distance of travel of an object in motion using simple physics principals. After a quick overview of the material we will host a lab section in which the students will be asked to make a catapult made of pencils and rubber bands. They will then compete against each other to see which catapult will shoot a marshmallow the farthest. We would like to provide the students with the top three designs with some sort of prize. PCC's National Society of Black Engineers Club, Physics
Coding Virtual Reality Environments
Participants will design, code, and explore their own personal virtual environment using Google Technology and Cardboard headsets. Students will be to access and modify their environments long after this workshop is done. Ellen Feldman, CalTech; Engineering
Designing a Spacecraft to Explore the Red Planet
Have you ever wondered why engineers design Mars rovers the way that they do to explore the Red Planet? Essentially, each Mars rover is a robot geologist equipped with the same systems and instruments that a human geologist would need to keep it operating safely in the field. Students in this workshop will learn about the fundamental systems that every Mars rover is equipped with in order to fulfill its mission goals. They will then use this information to design and build their own rover models. Presenter: Devin Waller, California Science Museum; Astrophysics and Geological Sciences
The Eyes Have It….Or Do They?
This workshop will give an overview of the types of memory and learning in the human brain. Students will get hands-on experience with learning and memory by participating in a group experiment that asks whether the human brain can learn to compensate for visual distortion introduced by prism glasses. The prolonged effects of the prism glasses training will be surprising. Presenter: Tara Mastro, CalTech; Biology and Biological Engineering
The Power to Control Electron Lasers at Your Fingertips
Students in this workshop will attempt to identify an unknown mineral based on a variety of tests that use chemistry, physics, and geology. One of the devices that you will be using to determine the composition of the mineral is the scanning electron microscope. You will be remotely accessing this at a research university while controlling its functions from a laptop in the classroom. You will get specific chemical information that you will analyze and use to classify the mineral. Presenters: Alexandra Brouke, USC Informational Technology and Svetlana Timberlake, CSUN Undergraduate; Chemistry, Physics and Geology
Scientific Thinking and Species Concepts: Tools for Natural History Research
The land snails and slugs of Southern California are under-studied and poorly inventoried. The Natural History Museum of Los Angeles County has sponsored a citizen science initiative called SLIME (Snails and Slugs Living In Metropolitan Environments) that uses the iNaturalist web platform to collect snail observations from the public throughout Southern California. One of the most interesting structures to study in snails is the radula, which is a ribbon of teeth. The radula is very small but it can be beautifully imaged using a scanning electron microscope (SEM). The teeth of the radula provide information that helps scientists figure out the species of snail or slug collected and important aspects of its natural history. Students in this workshop will use SEM images to identify species of snails and slugs found by Los Angeles residents in a true citizen science collaboration. Presenter: Jann Vendetti, Natural History Museum; Invertebrate Zoology
Tech Gyrls: Imagine It, Make It
Students will learn the basics of 3D printing and design with the YWCA's Tech Gyrls. We will use TinkerCAD and Microsoft Kinect to explore what it takes to start designing and modeling in three dimensions and how to bring your ideas to life. Presenter: Jomie Liu; Tech Gyrls YWCA, Engineering
Kitchen Chemistry: Where Food and Science Collide
Students will have fun exploring the chemistry that lives in our very kitchens. Explore 2 to 3 chemistry experiments and reactions. Presenter: Marisa Bowers; City of Hope, San Gabriel Valley Science Education Partnership Award Collaborative; Biological Sciences
Finding Life on Another Planet
Geology and planetary science exercise. Presenter: Elena Amador; Caltech; Geological and Planetary Sciences
Not everybody poops: what the fish gut can tell us about human health
The nervous system of the gut controls proper digestion from swallowing to pooping. This nervous system forms during embryo development, and problems in this process can lead to birth defects and diseases affecting digestion. Zebrafish embryos are see-through which allows us to watch digestion in real time and better understand problems with human digestive health. In this workshop, we will observe normal zebrafish development, explore eating and digestion of different food in healthy embryos, mutant embryos, or embryos that have been treated with different drugs to try and diagnose various digestive problems. Presenter: Dr. Megan Martik, CalTech, Developmental Biology
Caffeine Makes the Heart Race
The heart is the first functional organ to form in a developing embryo. The heart begins as a simple tube that contracts to circulate the first blood cells into newly developed blood vessels. In this workshop, we will look at living chick embryos under a microscope to observe the embryonic heart and how it beats. We will then observe what happens to the heart when we add caffeine, a stimulant found in coffee and soft drinks. Note: We will be dissecting living chick embryos. If you are sensitive to and cannot take the sight of blood, this workshop may not be for you. Presenter: Dr. Erica Hutchins, CalTech, Developmental Biology
---
SAVVY SKILLS WORKSHOPS
(11:00 – 11:50 a.m.)
Attending College as a STEM Major
Hear from a panel of college students about their journeys as STEM majors and pursuing careers in STEM fields. Panel participants will share their experiences in STEM majors, talk about how their love for STEM first arose and evolved into their current college studies, and how they are molding their college careers and extracurricular activities into their own unique paths towards eventual careers in STEM. Emilie Skoog, USC
Budgeting Tools; Get Credit-Smart
This workshop will provide the essentials of financial education, real-world skills, and knowledge every student can use, including how to identify "needs" vs. "wants"; plan early for the future; earn more money by learning more skills; build a budget to control money; become an entrepreneur by starting a business venture; control spending with a spending plan; build credit wisely and avoid debt; and invest in higher education and find the money to pay for it. Presenter: Montserrat Perezjoya, Wells Fargo
A Guide to Getting into Great STEM Colleges
Each student will learn how to develop herself and her profile to become an irresistible applicant to STEM colleges. The presenter will share a strategy that uses hard work, dedication, creativity, a little bit of bravery and very little money to develop student attributes, documented results, and personal stories that STEM college admissions boards view favorably when considering applicants for admission. Presenter: Andrea Martin
How to Make Time to Be Successful
How we feel about ourselves has a huge impact on how we treat ourselves and others and how we choose to spend our time.  This interactive discussion will help you appreciate your own uniqueness and help you plan activities that reinforce and utilize your self-esteem.  Come learn how you can use this knowledge as a springboard for success! Presenter: Iris Hosea, SCE
Yoga: Breathe for Your Future
Yoga creates an opportunity to come to one's center via breath and movement. It is a time to release tension, restore and strengthen our bodies physically, and bring calm to the mind.   Through a practice of yoga we can also foster better digestion, sleep, and overall mental wellness. It is our mindful breathing, coupled with asanas (yoga poses), that creates the positive changes all-around. In this session students will be guided to move through yoga poses in such a way that meets their ability. Presenter: Sherine Adeli, PCC Staff and Yoga Instructor
Social Media, Smart Phone Use and Internet Safety
All the information you need to be savvy about your connections on the Internet. And tips to use your smart phone for productivity. Presenter: Ms. Pringle, PUSD Lead Tech Teacher
Advocacy: The Key to Advancement
There's no progress without advocacy. Whether it's for yourself, issues you care about, your peers, or you just want your voice heard, you'll need these important skills. You'll learn strategies to advocate effectively by identifying key problems, recognizing decision makers, gathering support, using appropriate communication styles, and making your case. Presenter: Jane Gov, Youth Services Librarian, Pasadena Public Library
---
ADULT WORKSHOPS
(9:00 – 11:50 a.m.)
Encouraging Your Daughter in STEM
Presenter: Dr. Dana Grip
This workshop will focus on how girls learn and perform in science and math courses and how guardians and teachers can help encourage their achievement. Attendees will learn to identify ways in which girls learn differently in math and science. They will learn to recognize maladaptive approaches/situations that can thwart girls' achievement in STEM and increase their understanding of how adults can be supportive and encourage girls' performance.
Protect Your Child's 'Rep' – How to manage your daughter's online profile
Presenter: Pixie Boyden, USC
It can be challenging to manage your child's online profile, especially in a world of social media. Come learn key things to look out for and why this matters.
Financial Aid & College Admissions
Presenter: PCC Pathways Staff
This workshop will focus on financial aid programs, community college enrollment, concurrent enrollment, general education courses and how to transfer to a 4-year college or university.
College Culture — Preparing the Entire Family for College (English/Spanish)
Presenter: Melva Alvarez, PCC MESA and Mas2 Programs
This workshop will engage families with practices for creating a college-going home and explain the different college pathways. Supportive services are all around. We will discuss financial aid, scholarships, grants, and special programs available before college.  Last, we will cover why STEM majors are an amazing opportunity for young women, and how families can influence student success.
I Want to Do a Fun STEM Workshop!
Presenters: CalTech, City of Hope
Choose from a few of the same workshops that the girls participated in today while they are in their Savvy Skills workshops. A few of the presenters will do their workshops again just for the adults so you can get a taste of the STEM experience and get inspired. You will choose from 3 hands-on workshops from chemistry, physics, or developmental biology and head off to the classroom:
Kitchen Chemistry: Where Food and Science Collide
Caffeine Makes the Heart Race
Not Everybody Poos: What Fish Tell us About Human Health